Saudi Arabia
Experts for Saudi Arabia
Are you an individual businessman or a business organisation that wishes to expand in business ??, we offer financial instrument such as BGs, SBLCs,MTNs, LCs, CDs and others on lease and sales at a rate of 4%+2% of the face value and reasonable conditionfrom a genuine provider. You are at liberty to engage our leased facilities into trade programs as well as in signatory project(s) such as Aviatio

Total Posts: 1 Last post by silverbestrebello

Are you an individual businessman or a business organisation that wishes to expand in business ??, we offer financial instrument such as BGs, SBLCs,MTNs, LCs, CDs and others on lease and sales at a rate of 4%+2% of the face value and reasonable conditionfrom a genuine provider. You are at liberty to engage our leased facilities into trade programs as well as in signatory project(s) such as Aviatio

Total Posts: 1 Last post by silverbestrebello
Ask the Experts: Adam Hosier

Ask the Experts: Adam Hosier
Saudi Arabia Business Expert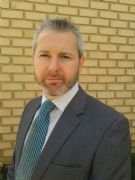 Saudi Arabia Business Expert
Since his first job as an apprentice engineer in the UK over 20 years ago, Adam has worked his way from the shop floor, through middle management to leadership roles with a variety of UK companies and overseas organisations ranging from SMEs and government departments to multinational companies.
In 2008 Adam began to focus on the Kingdom of Saudi Arabia while working as the regional manager of a global defence and security provider and supporting them to their first sale of a solution for the Saudi Ministry of Interior. His final role was working as the international BD director of a Saudi Ministry of Interior company responsible for implementing this solution on the ground.
In 2012 Adam co-founded AEI Saudi with the sole purpose of opening the Saudi market to foreign companies. From humble beginnings the 4 man joint Saudi British management team have grown the company to over 90 staff supporting clients from all over the world via multiple accommodation and office facilities throughout the Kingdom.
Our innovative market entry approaches and candid insight along with low cost, low risk, support services have helped over 700 companies and counting to do business in Saudi Arabia.
+44 7568147601
Hi Adam, I have a startup business and would like to market my business in Saudi Arabia. can you assist in providing guidance in finding the adequate resources or companies to assist that will not over charge or scam me. Thank You Question from Kashiefah Dreyer on 25/07/2022

Adam says:

Hello, Thanks for your message. Whilst we are not a Saudi marketing partner ourselves, we'd be happy to discuss your requirements in Kingdom in more detail and see how me might be able to help / signpost you to the right partners. If you are interested to find out more, please feel free to email Adam Hosier, AEI Founder - adam.hosier@aeisaudi.com. Thanks, Lizzie Daniell

Hi Adam how are you? I'm from Pakistan and have SMC Pvt company registered from the SECP now I want to registered in KSA guide me the procedure in KSA registration documents you need for the registration a company in Saudi Arabia with minimum capital Question from Rizwan Nawab on 27/04/2022

Adam says:

Hi Nawab,

Yes we can certainly help with this, please contact our Saudi Corporate Services expert Yazan Shukair on yazan.shukair@aeisaudi.com for more information.

For info the offices will be closed until 8 May 2022 due to EID holidays.

Best regards,
Lizzie

Hello Adam, My name is Mariam and I am planning on opening a recreation centre for children with disabilities in Khobar, Saudi Arabia. I would like to know what would my prepaid insurance include, and the cost of doing so here in the Kingdom? Thank you. Question from Mariam Hegazi on 30/01/2022

Adam says:

Dear Mariam, thanks for your message.

Do you mean the mandatory insurance that is included with a Saudi e-visa/tourist/business visa? If you do, this insurance only covers you for emergencies that happen inside the Kingdom. If you are referring to other types of insurance and have questions, please feel free to get in touch here - info@aeisaudi.com

Thanks,
Lizzie

Good afternoon Adam I'm based in the UK and last year joined a Russian based company in a business development role, which produces chemical cleaning solutions to the industrial sector to remove rust and deposits from metal without compromising the metal. They are planning to sell the product to industrial clients in the oil and gas, shipping and possibly military sectors. They are looking to set up a Middle East HQ in Saudi Arabia. I have connected them with a very close friend of mine who is a Saudi National and it has been agreed that a joint venture will be formed on a 50/50 basis. I just want to get some clarity about whether legally this is possible (having a 50/50 JV between a Saudi national and Russian/UK national, as I will be joining in the shareholding) and also the timescales for getting this done, as I have seen conflicting information, from 3-13 months to complete the whole set-up process. If you need any further information, please let me know. I look forward to hearing from you. Regards Ziad Question from Ziad Al-Rawi on 14/07/2019

Adam says:

Hello Ziad,

Thank you for your message.

If you could contact Freddie Blackman
Contact details
freddie.blackman@aeisaudi.com
UK: +447948050894
KSA: +966555148683

Many thanks

Hi Adam, we already have a partner in Saudi Arabia and we do business through them. however, we would like to explore options of direct supply to major retailers in Saudi Arabia not through the distributor. furthermore, our products requires registration in the SFDA, hence , looking for options if we can register directly in our company name and supply directly. another question about the possibilty of opening a bank account in our name? thanks Elvis Question from Elvis fernandes on 19/05/2019

Adam says:

Hello Elvis,

Thank you for your message.

If you could contact Freddie Blackman
Contact details
freddie.blackman@aeisaudi.com
UK: +447948050894
KSA: +966555148683

Many thanks

Dear Mr. Hosier, I represent WebKeyIndia.Com and TradeKeyIndia.Com, brands of Astech Media Private Limite an agency based in Delhi, India, operating in the areas of complete digital marketing solutions like b2b marketplace services and websites designing and development, social media optimisation, seo and ppc campaign management, all types of software development and mobile applications development, for medium to large organizations, in India and abroad. We are already working with a large customer in all over the world and we are thinking of establishing a local company, including a Bank account or partnership with Saoud Arabian firm or an individual. Could you please advise me with regards to the requirements, process and cost? Sincerely. Asif Ali Question from Aasif Ali on 07/01/2019

Adam says:

Thank you for your message.

If you could contact Freddie Blackman
Contact details
freddie.blackman@aeisaudi.com
UK: +447948050894
KSA: +966555148683

Many thanks

Good Morning Adam, We are an international procurement company that deals with some of the biggest companies in the Kingdom sourcing and supplying spare parts for their sites. We deal with clients that are located throughout the kingdom and we are seeing an increasing demand for us to handle the shipping, clearance and delivery to site including the VAT since the implementation the beginning of this year. As a result we are looking at our options regarding an operation within the Kingdom. I would ask if you could please outlay the options that would be available to us and also the implecations of each model and any associated costs that you know of. You co-operation is greatly appreciated in advance Kind Regards James Powell Question from James Powell on 14/12/2018

Adam says:

Hello James,

Thank you for your question.
If you could contact Freddie Blackman
Contact details
freddie.blackman@aeisaudi.com
UK: +447948050894
KSA: +966555148683

Many thanks


Adam, We have a PE in KSA for Tax and wish to now open a manned office. We will be looking to recruit SN's and then train them to work in the aviation industry. What steps should we be taking? Regards David Question from David Ashton on 11/07/2018

Adam says:

Hello David
Thank you for your question.
If you could contact Freddie Blackman
Contact details
freddie.blackman@aeisaudi.com
UK: +447948050894
KSA: +966555148683

Many thanks

Dear Mr. Hosier, I represent Linakis Digital, an agency based in Athens, Greece, operating in the areas of website and mobile applications development, for medium to large organizations, in Greece and abroad. We are already working with a large customer in Saudi and we are thinking of establishing a local company, including a Bank account. Could you please advise me with regards to the requirements, process and cost? Sincerely, Vasilis Question from Vasilis Linakis on 13/02/2018

Adam says:

Generally we don't advise setting up under the 'SAGIA route' (where a foreign company establishes a legal entity in Saudi), due to the costs involved (detailed below), unless there is really no other option (if you need to issue iqamas for example, or to work directly with the Saudi government). It is generally much easier to find a reputable partner that you trust to work with in Kingdom and develop a relationship with them going forward. If you have any further questions please do not hesitate to get in touch.
I'd be happy to send over more detail of the associated costs via email – please contact me at Freddie.blackman@aeisaudi.com and I will be in touch


Kind regards,

Freddie


Dear, need you support to know how to start a manufacturing unit in Gold jewelry, with 100% Foreign investment , how much time it will take for completing Government formalities , what are requirements & minimum investments. your fee to till set up full procedure & set up. Regards sajid khan 00966556909364 / partner Mr. Amir 0502888011 Question from SAJID KHAN on 23/10/2017

Adam says:

Dear Amir, we shall try calling you from Riyadh tomorrow to discuss this further. Regards,

- The AEI Team