Also in the news...
Trading under sanctions with Russia
Lists of confined establishments in Great Britain, Jersey and the Isle of Man approved to export or move ungulates to the EU and Northern Ireland.
Find out about Import VAT and Customs Duty when you send gifts into the UK.
Information on security and political risks which UK businesses may face when operating in Belarus.
This notice advises of revisions to the General Trade Licence Russia Sanctions - Vessels.
The largest legal Aged Shelf Companies Inventory for Sale!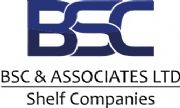 We are specialists in the provision of high-quality shelf company solutions
Possessing a diverse portfolio of companies
With wide range of age, from1 up to 20 years old!
With our considerable experience and expertise
We'll ensure that the entire purchase process is completed in a timely manner
With minimal fuss and frustration!
If you would like to discuss your particular requirements with an expert
Please call us on + Phone: + 44 200 222 7241 0r e-mail us at enquiries@bsc-associates.com
What is a Shelf Company
A shelf company is a company which has been registered and left with no activity for several months or even years to age. The aged company can then be bought by you and transferred into your name.
We register several companies each month for the sole purpose of becoming shelf companies. You can then buy one of these companies, change the name of the company, change the directors and shareholders into your own name then you are the legal owner of an established company.
Why Should I Buy a Shelf Company
Buying a shelf company provides a number of advantages over newly incorporated companies, making them an attractive solution for many clients.
One of the main reasons to purchase a shelf company is to project a greater sense of confidence to potential business partners or clients who feel more comfortable dealing with an established company; moreover, a shelf aged company offers you:
Access to Restricted Services
Improved Credit Options
Contract Tendering Eligibility
You can buy one of these companies,
Change its name and …
Start your business immediately
BSC offers a wide range of Shelf Companies for Sale!
We provide you the Quickest and Safety Way
To purchase a Shelf Company!
What we provide?
Fast transfer of ownership, in no more than 24/48 hours, depending on jurisdiction
Full electronic company documents, including the constitution
Obtaining your very own shelf company is easy!
Moreover …
BSC & Associates Ltd
Will further provide you
All annual and legally required services
To keep your Company on a regular and on-going good standing!
How Do I Purchase A Shelf Company?
Purchasing a shelf company from BSC is easy, simply follow next check list
1.

Take a look at the list of our current readymade shelf companies on the packages tab, this list is sorted by Jurisdiction and incorporation date so you can find a company where and with the age you require.

2.

Call us on + 44 200 222 7241 0r e-mail us at enquiries@bsc-associates.com with the name or jurisdiction and age of the shelf aged company you would like to purchase.

We will then reply with a quote of how much the shelf company is to buy.

3.

If you're happy with the price then we will send you our Client Questionnaire, for you to complete all new company information, such as new member or shareholders, directors and/or eventually new proposed name, so we may process all required changes.

4.

We will then transfer the company over to you and send out all the relevant paperwork.




IMPORTANT REMARK!
Each company is certified to have not been trading and
having the ability to trade in virtually any business area preferred, irrespective of the name
Shelf Aged Companies List
BSC offers a wide range of shelf companies for sale!
Belize IBC

Bulgaria EOOD

British Virgin Islands BC

Canada LP, British Columbia

Canada Inc, British Columbia

Canada LP, Ontario

Gibraltar

Hong Kong

Ireland Rep, Limited Partnership

Ireland Rep, Limited by Shares

Mauritius, GBCII

Netherlands, Foundation

New Zealand, Limited Company

Northern Ireland, Limited Co.

Northern Ireland, Non-Profit Co.

Northern Ireland, LLP

Scotland (UK), LP

Scotland (UK), LLP

Scotland (UK), Limited Co.

Seychelles, IBC

Spain, Sociedad Limitada (SL)

UK, Private Limited Co

UK, LLP

UK, Non-Profit

USA, Colorado LLC

USA, Delaware LLC

USA, Florida LLC

USA, Hawaii LLC

USA, New Jersey LLC

USA, New Mexico LLC

USA, New York LLC

USA, Oregon LLC

USA, Washington LLC
Should you have any question or matter you would like to discuss with us
Our multi-lingual team of business advisors is happy to assist you with all upcoming questions and issues in relation to your company.
You may call or email us, and we will be happy to assist you in a fast and efficient manner.
You can also come visit us at one of our offices near you, to personally discuss all matters you need to clarify, before you take a decision.
Arrange an appointment and we will be happy to meet with you.