Also in the news...
What UK goods vehicle operators need to do to carry out international road haulage.
Find out how to import firewood, such as logs and kindling, into England, Scotland and Wales (Great Britain).
If you're a business that currently buys goods from or sells goods to countries outside the UK, or are planning to trade with Europe from January 2021, HMRC's new tool can help you identify ways you might be able to make the customs process easier for cheaper for your business. This short video shows you how to use the tool.
If you're a UK business thinking about moving goods into or out of the UK , this video is here to help you understand how customs intermediaries or agents can help you. For more information have a look at the guidance available on gov.uk.
If you're buying or selling goods abroad, you need to work out the amount of duty or VAT you owe. This short video tells you how to find out the 'commodity code' classification for your goods, using our Trade Tariff tool. Find out more on GOV.UK
Surrey translators crowned winners at UK language sector awards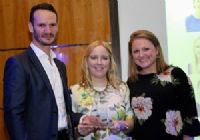 Surrey Translation Bureau, a language service company based in Farnham, has been crowned the winner of the Project Management Team of the Year category at the Association of Translation Companies' (ATC) 2017 Language Industry Summit Awards.
Designed to recognise and celebrate success in the language sector, the team at family-owned Surrey Translation Bureau won the award for not only exceeding its targets, but providing service with a smile and making a contribution beyond the scope of its day-to-day work.

Judges heard that every member of the company's 12-strong Project Management Team is a qualified professional translator, enabling them to deliver a personalised service to clients. They also pride themselves on maintaining a strong relationship with their freelance translators as well as taking individual responsibility for sharing knowledge and training.


They picked up the award at a gala dinner during the ATC's 2017 Language Industry Summit. Richard Davis, Acting Head of Translation Operations at Surrey Translation Bureau, said: "We were delighted to win as it's great to get such recognition from the ATC. It's good to see everyone's hard work rewarded in this way."

This year's judging in the ATC awards was undertaken by Liz Pryke, Secretary of the ATC, Rudy Tirry, President of the European Union of Associations of Translation Companies, Sarah Griffin-Mason, Chair of the Institute of Translation & Interpreting and Laura Brandon, Executive Director of the Globalization and Localization Association.
Liz Pryke said: "The gala dinner and awards were a real celebration of success in the language sector. There are many talented people in our industry and these awards recognise their commitment to excellence. We congratulate Surrey Translation Bureau on their award and we're confident they and the other winners will continue to provide outstanding services to ensure the language sector carries on growing."

Representatives from the language service providers gathered at the gala dinner also showed their support for not-for-profit organisation Translators without Borders (TWB), which aims to close the language gaps that hinder critical humanitarian and international development efforts worldwide. They raised £1,000 for TWB on the evening with a fund-raising raffle and photo booth photos.