Also in the news...
If you run an EU-based business, check what your business needs to know to continue trading with the UK.
Find out about new safety and security declarations that will apply from 1 October 2021 on goods leaving Great Britain (England, Scotland and Wales).
It is one of the best ways for the Italian citizen to manage their business. This corporate vehicle allows access to multiple advantages of an advanced jurisdiction such as the US and also manages to maintain a low tax rate with very manageable levels of accounting and bureaucracy.
Joint Ministerial Declaration on Future Economic Cooperation between the Association of Southeast Asian Nations (ASEAN) and the United Kingdom of Great Britain and Northern Ireland (UK).
These are exciting times for Dubai and the UAE. With the entire business world's attention soon to turn to the Emirates with the delayed Expo 2020 kicking off in October (and continuing all the way through to the end of March next year) it's never been a better time to be a UAE business owner
SMEs Urged to Protect Against Currency Shocks Ahead of Election
Small businesses who plan to make international payments and transfers in the next 6 weeks may be in for a shock, foreign exchange experts FAIRFX have warned saying that Sterling could now become increasingly volatile as we get closer to the 2015 election.
New analysis of the 2010 election and the 2014 Scottish Referendum has highlighted the impact major political events combined with an uncertain outcome can have on Sterling. Accordingly, SMEs across the country are being urged to plan ahead to prevent unnecessary costs to the business.

FAIRFX currency expert Darren Kilner explains: "If we look back at the currency markets in the three weeks leading up to the 2010 election and the 3 weeks after, there were high levels of volatility. Our analysis shows that Sterling moved over 8%* against USD within the election period alone and did not regain its pre-election strength until three months after the coalition was formed.

"For businesses making international payments a £10,000 transfer into US Dollars could have cost them over £790† extra due to this 8% drop in Sterling in one transaction alone. And for businesses making several transactions a month, this would really impact operational costs.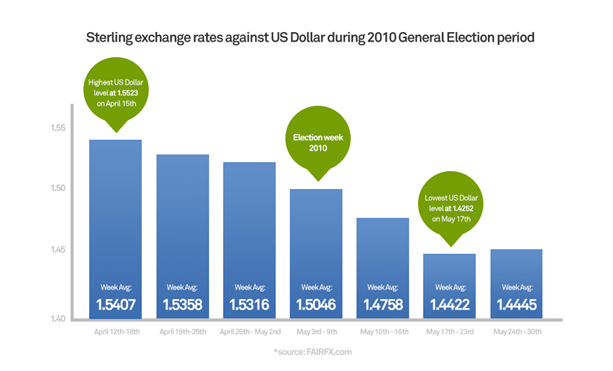 "A further example is last year's Scottish Referendum where again currency was severely impacted. When the polls signalled that it was possible for a YES vote to come out on top, Sterling began to lose ground to the Euro with rates varying over 3%** within a short period of time, however it also quickly rebounded after the vote was a NO.

"With the election just around the corner and the Conservatives and Labour currently on similar levels in the polls, there are expectations of another hung parliament which has every likelihood of creating currency volatility similar to the previous election.

"For businesses, it's vital to keep a close eye on currency movements so you don't get stung by an unstable pound. And if you need to make large international money transfers in the next six weeks, make sure you speak to an expert."

You can check latest currency rates by visiting the FAIRFX website.