Also in the news...
These are exciting times for Dubai and the UAE. With the entire business world's attention soon to turn to the Emirates with the delayed Expo 2020 kicking off in October (and continuing all the way through to the end of March next year) it's never been a better time to be a UAE business owner
The concierge service provides a one-stop shop to help maritime businesses interact with government departments.
British rail companies are on track for a potential export boom thanks to the UK-Australia trade deal.
How you import from and export to Mexico.
As more economies around the world open up and companies bring employees back to the office, global expansion plans that may have been put on hold last year are now taking shape. It can be challenging to know where to start, but here are some key factors to consider when expanding your operations into new countries.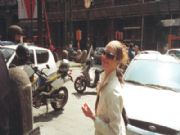 Start Doing Business Overseas
Putting International Business In The Spotlight
Going Global exhibition and conference returns to ExCeL London on 15-16 May
If you're looking to expand your business internationally, export products or set up overseas operations, then you need to visit the Going Global exhibition and conference at ExCeL London on 15-16 May 2014. The show specially caters for the latest globalisation demands that are being placed on UK businesses and promises to be an unmissable event for companies that are looking to 'go global'.
Supported by the UKTI, Going Global presents a wealth of educational seminars, workshops, networking events and interactive features – all of which are absolutely free. The event is also supported by leading international organisations including the top international trade bodies for the emerging 'BRIC' economies (Brazil, Russian, India, and China). Going Global is the definitive one-stop-shop to expand and monetise your business internationally.
The Going Global show has been designed specifically to give your business the opportunity to raise its profile on the global stage at the same time as acquiring the latest knowledge, information and education to better export your products or set up overseas operations in Europe, the BRICS and MINT markets, the gulf and MENA states and more. It's this combination of learning opportunities and intense networking that makes Going Global different to any other international business show.
Entire seminars are devoted to seizing the global marketplace, with leading exhibitors and showcases to explore global markets that are more open and plentiful than they have ever been before. Exclusive seminars will focus on Europe and each of the BRICS economies in turn. Each of these territory-specific seminars will address the most important issues, challenges and opportunities which face UK companies like yours that are now seeking to expand into these countries and cultures. Going Global will help your business be ready to seize these opportunities.
Going Global attracts the world's best business partners because the best first step towards globalising your company is to meet people who have already successfully established themselves on the world business scene. Our experts from across the globe offer you an invaluable and highly-interactive learning experience across two days that covers every aspect of establishing overseas trade. In addition, you'll have the chance to network with thousands of people who are interested in extending their business into the international market – you may just find your ideal business partner at the show.
And the best thing is that all these seminars, workshops and networking opportunities are under one roof and completely free! This event runs within The Business Show - the UK's biggest business exhibition - giving you even more opportunities to learn about business, find suppliers and network while you're there. Going Global is the definitive event for any UK business looking to trade overseas.
Free Tickets
Going Global can help your business with everything it needs to move into international trade in 2014 and beyond. If you want to be doing business on the global stage, then you need to be at Going Global at ExCeL London, 15-16 May 2014. Book your free ticket now at www.goinggloballive.co.uk or call 0117 930 4927.