Also in the news...
These are exciting times for Dubai and the UAE. With the entire business world's attention soon to turn to the Emirates with the delayed Expo 2020 kicking off in October (and continuing all the way through to the end of March next year) it's never been a better time to be a UAE business owner
The concierge service provides a one-stop shop to help maritime businesses interact with government departments.
British rail companies are on track for a potential export boom thanks to the UK-Australia trade deal.
How you import from and export to Mexico.
As more economies around the world open up and companies bring employees back to the office, global expansion plans that may have been put on hold last year are now taking shape. It can be challenging to know where to start, but here are some key factors to consider when expanding your operations into new countries.
New Rotherham Organisation Building Links With Eastern Europe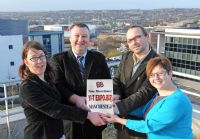 A new business and social enterprise in Rotherham is bringing Polish and UK businesses closer together and promoting Yorkshire as a tourist destination, with the support of the ERDF funded project 'Growth and Prosperity in Rotherham' (Soft Landing Zone) managed by RiDO (Rotherham Investment Development Office).
Along with his business partners, Mariusz Staniursk spotted an opportunity to set up a social enterprise – Yorkshire Tourist Organization Ltd to encourage more tourists from Eastern European to visit Yorkshire. They have also set up Narvia Tourist Info Centre (TIC) Ltd, an event management business that will run exhibitions and conferences that connect businesses from Eastern Europe with those in the UK for mutual benefit.
On arrival in South Yorkshire, Mariusz was made aware of the support offered by RiDO's Soft Landing Zone to inward businesses relocating to the UK and he has been able to access support with the legal aspects of setting up his social enterprise. RiDO also supported Yorkshire Tourist Organisation by arranging legal advice for preparing a Memorandum of Association that will enable the organisation to access international grants as a social enterprise from the UK and Eastern Europe.
Yorkshire Tourist Organization is a partner of Narvia TIC, which is currently organising its first major exhibition - Yorkshire Investment & Tourism Expo, which takes place at the Hilton hotel in Manchester on 28th and 29th January 2014 and is designed to build links and connect businesses in the UK and Eastern Europe. RiDO will also be presenting at this event to inform delegates about the services offered through the Growth and Prosperity in Rotherham Soft Landing Zone project.
Julia Millea, Business Co-ordinator for RiDO's Soft Landing Zone said: "Yorkshire Tourist Organization is a fantastic new venture, which should open up lots of opportunities for promoting Yorkshire to the Eastern European region. We have helped Mario in many ways which include offering the right professional environment, sourcing suppliers, language and cultural support and building business connections in the region.We are very excited about what the future holds for this exciting new business!"
Mariusz Staniursk, Managing Director of Narvia Tourist Info Centre, said: "One of the reasons we chose to establish our business and social enterprise in Rotherham is because of the support available through RiDO. We have received ongoing help and support and RiDO has helped us to establish a good network of contacts here in Yorkshire. Moorgate Crofts Business Centre is a great location for us and we are hoping to host a second exhibition in Rotherham later on in 2014, with the theme of promoting the Yorkshire region and building links between Eastern Europe and South Yorkshire businesses."
The Growth and Prosperity in Rotherham (Soft Landing Zone) project is supported financially by the European Union. It has attracted £842k investment from the European Regional Development Fund as part of Europe's support for the region's economic development through the Yorkshire and Humber ERDF Programme 2007-13.
For more details about the Soft Landing Zone project, which is run by RiDO click here