Also in the news...
If you run an EU-based business, check what your business needs to know to continue trading with the UK.
Find out about new safety and security declarations that will apply from 1 October 2021 on goods leaving Great Britain (England, Scotland and Wales).
It is one of the best ways for the Italian citizen to manage their business. This corporate vehicle allows access to multiple advantages of an advanced jurisdiction such as the US and also manages to maintain a low tax rate with very manageable levels of accounting and bureaucracy.
Joint Ministerial Declaration on Future Economic Cooperation between the Association of Southeast Asian Nations (ASEAN) and the United Kingdom of Great Britain and Northern Ireland (UK).
These are exciting times for Dubai and the UAE. With the entire business world's attention soon to turn to the Emirates with the delayed Expo 2020 kicking off in October (and continuing all the way through to the end of March next year) it's never been a better time to be a UAE business owner
Lawrence Grant, Chartered Accountants presented with a long standing membership award
GGI, one of global Top Ten associations of accounting, tax consulting and law firms, that provide clients with specialist solutions for their international business requirements, has presented the firm with an award recognizing the loyalty and commitment the firm has given over the past 17 years.
Michael Reiss von Filski, CEO of GGI Geneva Group International AG, who presented the award to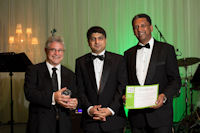 Graham Busch, Kassim Harunani and Alan Rajah (pictured L-R) says: "In today's international markets, having a strong presence is essential. That's why international contacts are so important. An in-depth understanding of local legal and fiscal differences is a must for businesses to be successful in their cross-border activities and Lawrence Grant has continued to demonstrate its dedication, commitment and professionalism to these principles."
Graham Busch on accepting the award said: "We are deeply honoured to have received this award. This membership has enabled us to build very strong ties with other GGI members from around the world.
It has provided us with a platform to not only offer an International service to our clients, but an opportunity to exchange knowledge and expertise, and discuss the most current international tax developments. We look forward to celebrating the next milestone of 25 years of being associated with GGI!"