Also in the news...
Specification of requirements and grant funding agreements for exhibitors in Great Britain and Northern Ireland.
A free trade deal between the UK and India could bring huge benefits for Scotch whisky producers, as the UK Government looks to cut tariffs of up to 150%.
Information on key security and political risks which UK businesses may face when operating in Belgium.
Use this guide as a supplement when using the CHIEF and CDS trade tariffs to import and export goods to and from Great Britain (England, Scotland and Wales) after the end of the transition period.
Find out how inland pre-clearance checks affect you and what you need to do when we carry out checks on your goods.
Labour Costs Slovakia
In case you want to expand to a foreign country, naturally one of the first questions that pop-up.. What about the labour costs ? In this article we would like to give a structured introduction in case of Slovakia.
Minimal Salary
The minimal salary is indexed every year. At the first stage an agreement between the Unions and Union of employers should be achieved and such proposal should be forwarded to the government for approval.
Nevertheless such agreement was never achieved and the government is making this decision on it's own every year in September. Slovakia has now for more than 12 years a government led by the Social-democrats and this has a very strong influence on the fast raise of the minimal wage. Slovakia still doesn't have the highest minimal wage among the V4 countries and therefore keeps it's competitiveness in this area.
Regarding the future of the minimal wage recent polls revealed that the social democrats will be not so strong in the coming elections in Spring 2020 and therefore it's very likely they will be not able anymore to push the minimal wage so fast. What can hurt the employers applying this institute is the fact that this year it will be probably the last time for the coming 5 years that the social democrats will have the power to influence the minimal salary and there is expected a more than 10% raise stepping into force next year.On the other hand the right and liberal parties start to discuss also possibilities to cancel the minimal wage in case they will in the next government.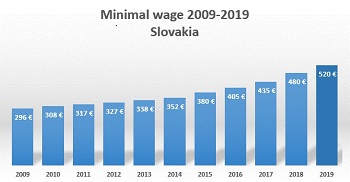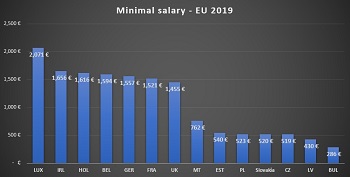 Average salary
As the economy of Slovakia is in a very solid condition there are expectations for a steady raise of the average salaries in the upcoming months and probably years by 4%-7%. Also lack of labour force and fight for every single worker contributes to this growth. In addition Slovakia will present next year a balanced budget for the first time in the history of this young country.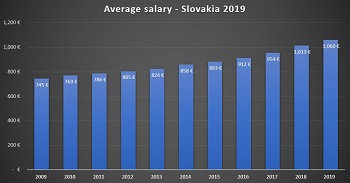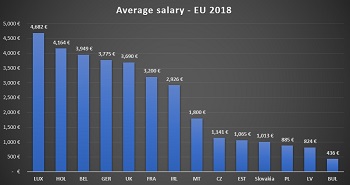 Labour costs
Total labour costs are also very important as the gap between East and West can be described as tremendous. Hereby insights based on the Eurostat data gathered in April 2019.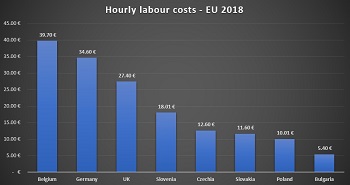 Obliged extra payments
Extra payments are a very actual topic because starting from May a second phase of higher extra payments steps into force.
Here is a short overview how much you must pay your staff extra in case of overtime, working night shifts or Saturday and Sunday.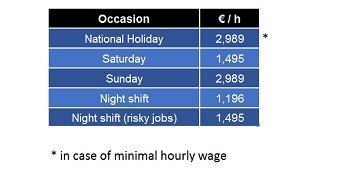 Conclusion
In case you are currently considering to expand in Central/Eastern Europe as you see the main point of your decision will not be based on salary levels. As its stated from the V4 states it's not a matter of minimal, average wages or labour costs because in these numbers they are quite close.Of course, if we go more deep we can see certain differences and trends.
Other factors must be strongly considered, too. Infrastructure, reliable and available workforce, administration duties, taxes, currency, your segment, state support, etc.
In case you would like know more, feel free and contact us!