Also in the news...
What UK goods vehicle operators need to do to carry out international road haulage.
Find out how to import firewood, such as logs and kindling, into England, Scotland and Wales (Great Britain).
If you're a business that currently buys goods from or sells goods to countries outside the UK, or are planning to trade with Europe from January 2021, HMRC's new tool can help you identify ways you might be able to make the customs process easier for cheaper for your business. This short video shows you how to use the tool.
If you're a UK business thinking about moving goods into or out of the UK , this video is here to help you understand how customs intermediaries or agents can help you. For more information have a look at the guidance available on gov.uk.
If you're buying or selling goods abroad, you need to work out the amount of duty or VAT you owe. This short video tells you how to find out the 'commodity code' classification for your goods, using our Trade Tariff tool. Find out more on GOV.UK
IBG's EID Offer a Thrifty Path to Incorporation in Ajman FZ and SHAMS FZ
This coming EID, Middle-East's premier business setup solutions provider IBG Consulting is offering a heartwarming welcome to all entrepreneurs and SMEs eager to form their Ajman and SHAMS free zone companies in UAE.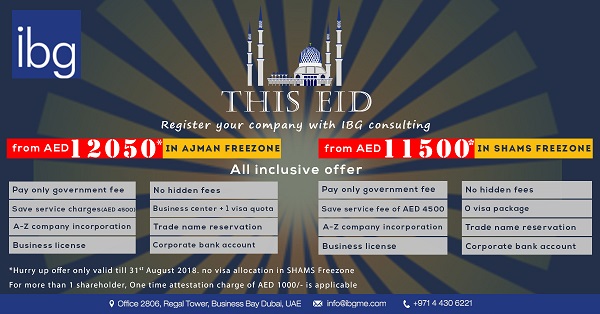 The initiative is aimed to encourage investors seeking rising opportunities in UAE's diverse sectors and assist them to install a robust business presence to kick-start their corporate ventures. Commemorating the festivities of Eid-ul-Adha, IBG Consulting will waive off all service charges incurred to the business setup process.
The goal of the new campaign is to give budding entrepreneurs struggling financial constraints the incentives they need to nurture and grow in UAE's top free zones, Ajman and SHAMS.
Both packages are priced so the investor is only required to pay government fee, saving service charges of AED 4,500 for a full-featured company incorporation with trade name reservation and corporate bank account. The Ajman package starts from AED 12,050 with Business Center + 1 visa while the SHAMS package starts from AED 11,500 with 0 Visa.
By offering cost controlled packages, the program will allow numerous expat entrepreneurs establish their foothold and integrate within UAE's latest economic outlook through professional guidance from IBG Consulting.
It will also serve as a fitting solution for the momentous occasion of EID, providing low budgeted business owners a gateway to an affordable UAE company formation without hassling into overpriced consultancy vendors.
Sharing thoughts on the campaign, IBG's Senior Business Consultant Mahesh Maddu said,
"A lot of business owners who go through the trials of setting up their own company in the absence of professional help and support to circumvent the service fee will benefit from this campaign the most. With this package, they will not pay the service fee and still get everything done that they had to do themselves."
With its official launch on 14th of August, the offer will remain valid till the 31st of August 2018, allowing sufficient time for businesses to register and start their journey into UAE's leading free zones Ajman and SHAMS.