Also in the news...
Exports Minister, Mike Freer, delivers keynote speech at the UK Trade and Export Finance Forum
International Trade Secretary will lay groundwork for broad approach to transatlantic trade and investment in first official visit to New York and Washington DC
One year ago a new immigration system launched, with visa routes attracting skilled workers across construction, hospitality, health, social care, science and research.
The UK Tradeshow Programme offers government support to help UK businesses successfully attend or exhibit at overseas trade shows.
The Finance Act, 2019 amended some provisions of the Companies Income Tax Act, Petroleum Profit Tax Act, Personal Income Tax Act, Value Added Tax Act, Customs and Excise Tariff etc. (Consolidation Act), Capital Gains Tax Act and Stamp Duty Act.
Going Global May 2014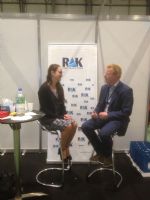 RAK Free Trade Zone Authority and Expatax from the Netherlands meet at the Going Global exhibition