Also in the news...
Advice from Trade and Agriculture Commission (TAC) to the Secretary of State for International Trade on measures in the UK-New Zealand Free Trade Agreement (FTA).
New importers need to register with the Customs Declaration Service to make their import declarations from 5 July 2022.
This page brings together the government's announcements of the UKís sanctions in response to Russiaís illegal invasion of Ukraine. 
The landmark deal is expected to add at least £270 million a year to the Scottish economy, with food and drink and renewable energy businesses set to benefit.
Running throughout the summer, Charterhouse Lombard is offering cost-effective setup packages with the option of buying a multi-year license at a significant discount. Get in touch with us today to ask about:
Can SMEs Still Afford to Set Up Business in Hong Kong?
According to Instant Offices, although it is one of the most expensive cities for high-rise office rentals in the world, demand for office space in Hong Kong continues to soar. Despite being such a competitive market, research suggests itís still possible for small businesses to secure affordable workspace in this thriving global hub.
With a highly diverse market and unrivalled manufacturing capabilities, Hong Kong boasts an economy that supports foreign business owners and entrepreneurs. As a major financial centre and travel gateway, its location in the heart of Asia makes it ideal for international trade and investments, and a sought-after location to set up a business.
To determine the affordability of SMEs setting up in Hong Kong, Instant has conducted an analysis of major business locations along commuter routes to determine the average cost-per-desk in each area, as well as the number of co-working centres per area.
With the average cost per desk per month ranging between HK$3,597 inWan Chaito HK$4,827 inSheung Wan, results suggest that if SMEs and entrepreneurs embrace alternative solutions to conventional office leasing, itís possible to secure space in one of Hong Kongís business districts.
Cost Per Desk at a Glance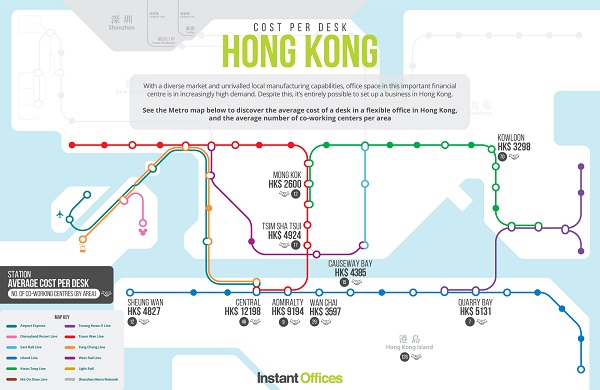 According to Instantsí flexible office experts, there is an increase in the demand for office space in areas aroundKowloonsuch asTsim Sha Tsui, due to the fact that Kowloon is generally more cost-effective thanCentral. With an average cost per desk of HK$12,198, co-working in Central has become a viable alternative for SMEs who want to set up alongside big players in the finance industry, as well as major corporations, with 46 locations in that area alone.
Locations across Hong Kong Island outside of Central such asAdmiraltyandCauseway Bayare areas high in demand due to a well-established business infrastructure, while in Kowloon, which has around 70 co-working centres, Tsim Sha Tsui is considered a central business hub with desk costs averaging around HK$4,924.
Newly emerging centres such asKennedy TownandSai Ying Punare proving to be popular as alternative locations. It is inevitable that further expansion of alternative parts of HK will see growth to reflect the opening of newly built MTR lines as they open.
Companies looking for even more cost-effective solutions are steering away from prime locations and establishing themselves in more spacious areas in and aroundLai Chi Kok,Kwun TongandDiamond Hill.