Also in the news...
The Federal Capital Territory (FCT) Abuja, Nigeria's capital is gradually becoming a renowned city in Africa. In recent times, there has been an influx of people into the city and its real estate development and construction sectors are developing at a tremendous pace.
Looking to set up your UAE company? How about a visa for life? It might sound too good to be true, but it's a reality. And the offer ends October 31st.
If you want to build traction for your startup, you need to invest in a high-quality website. You also can't afford to make too many mistakes, because a good website costs money.
The Government reveals the 12 businesses from across the UK who will showcase their green technology and innovations at the Global Investment Summit.
Various types of businesses need a fleet, from car rental companies and public utilities to distribution centers, courier companies, and so many others. So, there are tons of enterprises out there that are constantly searching for better ways to enhance fleet efficiency, as any business that utilizes a fleet can ultimately enhance its bottom line if heightened efficiency is achieved.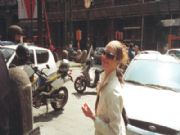 Start Doing Business Overseas
Website localization
Website localization is the process of adapting an existing website to local language and culture in the target market.
It is the process of adapting a website into a different linguistic and cultural context— involving much more than the simple translation of text. This modification process must reflect specific language and cultural preferences in the content, images and overall design and requirements of the site – all while maintaining the integrity of the website. Culturally adapted web sites reduce the amount of required cognitive efforts from visitors of the site to process information, making navigation easier and attitudes toward the web site more favorable. The modification of the website must additionally take into consideration the stated purpose of the new website with a focus on the targeted audience/market in the new locale. Website localization aims to customize a website so that it seems "natural", to its viewers despite cultural differences between the creators and the audience. Two factors are involved—programming expertise and linguistic/cultural knowledge.
The proliferation of website localization is the result of the popularity of computer and Internet users. People all over the world treat the Internet as their main location for information and services. These people do not all speak the same language. As a result, website localization has become one of the primary tools for business global expansion.
Due to website communication across multiple cultures for multiple needs, the Internet has given way to non professional translation practices. Because website localization involves mixed strategies, organizations tend to maintain a global image while using website localization to appeal to local users. The challenge of website localization has become even more important as websites increasingly have the potential to both supplement and replace presence in foreign markets. As web design becomes more congruent with national culture, it will foster online consumer purchasing. Creators take into account the "language, education level, belief and value systems, [and] traditions and habits" of the target culture in order to optimize results.
Source