Also in the news...
These are exciting times for Dubai and the UAE. With the entire business world's attention soon to turn to the Emirates with the delayed Expo 2020 kicking off in October (and continuing all the way through to the end of March next year) it's never been a better time to be a UAE business owner
The concierge service provides a one-stop shop to help maritime businesses interact with government departments.
British rail companies are on track for a potential export boom thanks to the UK-Australia trade deal.
How you import from and export to Mexico.
As more economies around the world open up and companies bring employees back to the office, global expansion plans that may have been put on hold last year are now taking shape. It can be challenging to know where to start, but here are some key factors to consider when expanding your operations into new countries.
Surrey Translation Bureau receives prestigious award
Surrey Translation Bureau has received the prestigious Corporate Member Award from the Institute of Translation and Interpreting.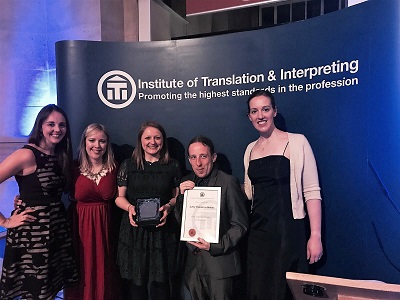 The company was named winner at the Institute's international conference and gala dinner in Cardiff, Wales, on 19 May.
It was recognised for its high-quality, personalised service to clients and freelancers; tailored internship and university programme preparing students for industry requirements; rigorous company evaluation process and positive feedback from suppliers – 97% said they would recommend the company to their peers; and its commitment to industry groups and continuing professional development for staff.
Surrey Translation Bureau is the first winner of this award since the introduction of the Institute's new, expanded awards programme which ITI has launched to recognise the best in translation and interpreting and to set a benchmark for what quality and professionalism should look like in the sector.

Awards Chair Catherine Park commented: 'Many congratulations to Surrey Translation Bureau for its achievements. With such a high proportion of those working in the sector doing so on a freelance basis, it's very important that companies communicate effectively with their suppliers, support them and make them feel part of the team. This is one of the areas of activity that made this entry really stand out.'

Allison Spangler, Resource Manager at Surrey Translation Bureau said: 'We are incredibly honoured to be the first translation company to receive this award from the ITI and grateful to have been recognised at such a prestigious industry event. A massive thank you to the entire STB team, past and present, as well as to our freelancers, who make up our extended STB family. I know it sounds cheesy, but it's absolutely true — we could not deliver our personalised, high quality service without the amazing work of these linguists.'

Surrey Translation Bureau was established in 1984 and remains an independent, family-owned business. Its in-house team includes 16 experienced language professionals.