Also in the news...
Lists of confined establishments in Great Britain, Jersey and the Isle of Man approved to export or move ungulates to the EU and Northern Ireland.
Find out about Import VAT and Customs Duty when you send gifts into the UK.
Information on security and political risks which UK businesses may face when operating in Belarus.
This notice advises of revisions to the General Trade Licence Russia Sanctions - Vessels.
Notices to exporters contain important information about:
Integrc Opening Ceremony with CBS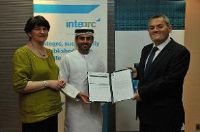 Integrc, a specialist in providing GRC (governance, risk management, and compliance) services to companies that run SAP, has recently commenced operations in the MENA region and has now launched its new regional headquarters in Dubai, highlighting the continued influx of UK investors in the region.
The recent launch ceremony of Integrc MENA was attended by Arlene Foster the Minister of Enterprise: Trade and Investment for Northern Ireland and took place at Corporate Business Services (CBS) headquarters in Dubai on Wednesday 27 February 2013.
Through the support and advice of its local advisers Invest Northern Ireland played a critical part in Integrc's initial presence in the region. Being part of UK Trade & Investment (UKTI) its role to promote the growth of Northern Ireland companies and the contacts and advice provided were key to setting up of Integrc MENA.
Integrc has credited the support of CBS, a service-based firm offering business setup and company formation solutions in the UAE and across the GCC region, for providing end-to-end support that enabled Integrc to fast track the launch of its new regional headquarters. Integrc further noted that specialised company formation solutions will increasingly play an important role in attracting more companies from Northern Ireland as well as multinationals from other countries to invest in the UAE and the GCC region.
Arlene Foster, Minister of Enterprise: Trade and Investment for Northern Ireland, said: "The UAE and the rest of the MENA region have become highly attractive destinations for investors from all over the world and we expect this trend to further gain momentum as more companies become aware about the exciting opportunities that have emerged in this region. We greatly appreciate the support thatCBShas extended to Integrc as it complements our own efforts to generate more business prospects for investors from Northern Ireland."
Gavin Cambell, Director, Integrc MENA, said: "Technology investments have surged in the GCC region, which strongly positions Integrc MENA to address various GRC challenges of resident enterprises. It has been an exceptionally smooth start for our MENA operations mainly because of the end-to-end business setup support provided byCBS. The specialised services offered byCBShave certainly unlocked new possibilities for us as we move forward with our global growth plans."
Ayman Al Awadhi, Managing Director and Co-founder of CBS, said: "Businesses from diverse sectors and from different parts of the world are now setting their sights on the UAE and the rest of the GCC region as a lucrative investment destination. Our successful partnership with Integrc MENA clearly demonstrates the eagerness of foreign investors to expand their business interests in the region.CBS is therefore expanding its core services as we expect to cater to enterprises from a much diverse range of industries that are looking to take advantage of bespoke business setup and company formation solutions to optimise their investments and give them the right business tools, knowledge they need and the local know-how."