Also in the news...
These are exciting times for Dubai and the UAE. With the entire business world's attention soon to turn to the Emirates with the delayed Expo 2020 kicking off in October (and continuing all the way through to the end of March next year) it's never been a better time to be a UAE business owner
The concierge service provides a one-stop shop to help maritime businesses interact with government departments.
British rail companies are on track for a potential export boom thanks to the UK-Australia trade deal.
How you import from and export to Mexico.
As more economies around the world open up and companies bring employees back to the office, global expansion plans that may have been put on hold last year are now taking shape. It can be challenging to know where to start, but here are some key factors to consider when expanding your operations into new countries.
How To Double Your Annual Leave In 2020
2 in 5 Brits took just half of their annual leave last year, with only 13% taking a mere 20% of what they were entitled to. The UK has a long way to go before perfecting the perfect work-life balance, as research reveals Brits work some of the longest hours in Europe, with a quarter working more than 40 hours a week. However, many people are already looking to plan their annual leave for the new year in order to spend more time out of the office.
Planning ahead and strategically booking annual leave around the Bank Holidays, can help maximise your leave, and if done right can potentially even double it, according to Instant Offices: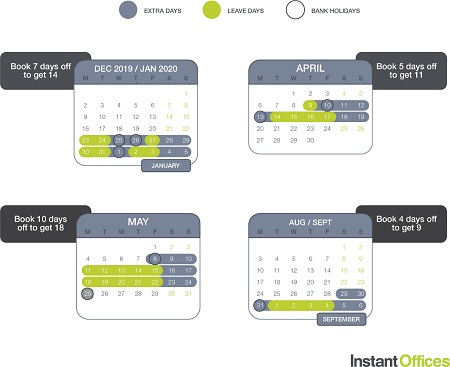 How to Maximise Your Holiday Leave in 2020
December 2019/January 2020
Bank Holidays:
Wednesday 25 December: Christmas Day
Thursday 26 December: Boxing Day
Wednesday 1 January: New Year's Day
Take a 14-day holiday by booking 7 days off (23 Dec – 5 Jan)
April 2020
Bank Holidays:
Friday 10 April: Good Friday
Monday 13 April: Easter Monday
Take an 11-day holiday by booking 5 days off (9 Apr – 19 Apr)
May 2020
Bank Holidays:
Friday 8 May: VE Day
Monday 25 May: Spring bank holiday
Take an 18-day holiday by booking 10 days off (8 May – 25 May)
August/September 2020
Bank Holidays:
Monday 31 August: Summer Bank Holiday
Take a 9-day holiday by booking 4 days off (29 Aug – 6 Sept)
Total: 52 days of annual leave for just 26 days booked off.
The Benefits of Mid-Year Breaks for a healthy work-life balance
Working Smarter, Not Harder
Excessive working can have a negative impact on performance and productivity, with employees being overworked and feeling undervalued. At this stage, it's easy to fall into the habit of 'always working' rather than 'working smart', and when this happens it's imperative to switch off from work to reset, unwind and spend time with loved ones.
Not only does this help relax your mind and improve overall happiness, but also renew your creative focus.
Avoid Burnout
'Burnout' has been the buzzword of 2019 when it comes to mental health in the workplace and will likely continue to be at a key consideration for both employees and employers in 2020.
Feeling exhausted, anxious, disengaged, cynical and even excessively critical of yourself at work are all signs of career burnout, however, this is entirely preventable. Before reaching this extreme point in your career, identify signs of burnout and strategically taking leave to focus on physical and mental health.
Reset Your Work-Life Balance
According to asurveyby PaymentSense, 38% of workers across the UK say they worry about work being completed while on annual leave, and 59% admitted their work negatively impacts day-to-day life. As modern families are spending less time together, setting clear boundaries so that work stress doesn't spill over into everyday life can be difficult, but it's imperative to push the off button and take a step back to focus on the things that really matter – travel, spending time with loved ones, improving yourself, helping others and generally just resting.
Increase Your Value at Work
Some companies place value in the 'first to come in, last to leave' style of working from their employees but, in truth, this culture only leads to burnout and reduced productivity over time. Rather than being the person who spends themost timeat work, focus on being the person who brings the most value to each task by being sharp, thoughtful and enthusiastic.