Also in the news...
The Federal Capital Territory (FCT) Abuja, Nigeria's capital is gradually becoming a renowned city in Africa. In recent times, there has been an influx of people into the city and its real estate development and construction sectors are developing at a tremendous pace.
Looking to set up your UAE company? How about a visa for life? It might sound too good to be true, but it's a reality. And the offer ends October 31st.
If you want to build traction for your startup, you need to invest in a high-quality website. You also can't afford to make too many mistakes, because a good website costs money.
The Government reveals the 12 businesses from across the UK who will showcase their green technology and innovations at the Global Investment Summit.
Various types of businesses need a fleet, from car rental companies and public utilities to distribution centers, courier companies, and so many others. So, there are tons of enterprises out there that are constantly searching for better ways to enhance fleet efficiency, as any business that utilizes a fleet can ultimately enhance its bottom line if heightened efficiency is achieved.
Essentials for a Non-Ghanaian doing Business in Ghana
As a foreigner intending to establish a business in Ghana, you may be confronted with varied and sometimes conflicting information on what the statutory requirements are and what are the benefits for establishing a business in Ghana.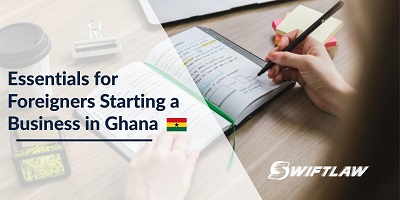 As such it will behove one embarking on such an endeavour to consult local consultants and/or professionals with adequate knowledge of the terrain to help navigate the challenges.
The Ghana Investment Promotion Centre Act (GIPC) outlines the fundamental requirements of Non-Ghanaians starting a business in Ghana.
Stated Capital & Ownership Requirements
In Ghana every company that has foreign (non-Ghanaian) ownership must after its incorporated register with the GIPC and meet certain capital and ownership requirements as follows:
Wholly Foreign Owned Company
A company that is wholly owned by a non-Ghanaian citizen must have a minimum stated capital of USD 500,000
Joint Venture Company with Ghanaian citizen
In a joint venture company between a Ghanaian and a non-Ghanaian, the non-Ghanaian shareholder(s) must contribute USD 200,000 to the stated capital of the company. The GIPC Act 2013 stipulates that in any joint venture company registered with a Ghanaian citizen, stipulates that the Ghanaian citizen cannot hold less than 10 % of the company's equity.< /p>
External Company
< An External company originally incorporated in another jurisdiction but with a place of business registered in Ghana as an external company does not need to meet any capital requirements. However when the external company registers with the GIPC, their fees are higher (currently around USD 11,000). This structure is not ideal for certain industries such as in the purchase & export of gold for instance, the minerals commission will insist that a limited liability company is registered before it will be given a licence. Always seek legal advice before setting up such an entity.
Trading Enterprise
Notwithstanding the above USD 500,000 and USD 200,000 capital requirements for wholly foreign owned and jointly owned company's with Ghanaian and Non-Ghanaians, there is a USD 1M capital requirement for trading enterprises in which a non-Ghanaian intends to participate. According to the GIPC Act 2013 "Trading enterprise" is defined as "purchasing and selling imported goods or services."
A non-Ghanaian whether in a joint venture with a Ghanaian or in a wholly foreign owned entity will be required to meet the capital requirement of USD 1 M .
Manufacturing & Export
In a bid to encourage the manufacture of products and exportation of same from Ghana,
Where a non-Ghanaian intends on registering a company in Ghana with the objects of Manufacturing &/ or exporting, the minimum capital requirement is only GHS 500.
Meeting the Capital Requirement
The minimum capital requirement may be met by company's with foreign ownership either by them bringing in cash or equipment for the business worth USD 1M, USD 500,000 or USD 200,000 or a combination of both.
Activities Reserved for Ghanaians
A non-Ghanaian is not permitted to engage in the following businesses as they are reserved only for Ghanaians;
Sale of Goods or provision of services in a market, petty trading or hawking or selling of goods in a stall at any place;
The operation of taxi or car hire service in an enterprise that has a fleet of less than twenty-five vehicles
The operation of a beauty salon or barber's shop;
The printing of recharge scratch cards for the use of subscribers of telecommunication services
Production of exercise books and other basic stationery
Retail of finished pharmaceutical products;
Production supply and retail of sachet water; and
All aspects of pool betting business and lotteries except football pool
Automatic Quotas
As an incentive to non-Ghanaians intending to set up a business in Ghana the GIPC ACT 2013 offers free work and residence permits to companies in Ghana that are able to invest certain capital requirements, these work and resident permits are known as "Automatic Quotas".
A company which has a paid up capital of:

USD 50,000- USD 250,000 is entitled to 1 Automatic Quota;
USD 250,000- USD 500,000 is entitled to 2 Automatic Quotas;
USD 500,000 – USD 700,000 is entitled to 3 Automatic Quotas;
USD 700,000- above is entitled to 4 Automatic Quotas.
Article supplied by Swiftlaw