Also in the news...
The Federal Capital Territory (FCT) Abuja, Nigeriaís capital is gradually becoming a renowned city in Africa. In recent times, there has been an influx of people into the city and its real estate development and construction sectors are developing at a tremendous pace.
Looking to set up your UAE company? How about a visa for life? It might sound too good to be true, but itís a reality. And the offer ends October 31st.
If you want to build traction for your startup, you need to invest in a high-quality website. You also can't afford to make too many mistakes, because a good website costs money.
The Government reveals the 12 businesses from across the UK who will showcase their green technology and innovations at the Global Investment Summit.
Various types of businesses need a fleet, from car rental companies and public utilities to distribution centers, courier companies, and so many others. So, there are tons of enterprises out there that are constantly searching for better ways to enhance fleet efficiency, as any business that utilizes a fleet can ultimately enhance its bottom line if heightened efficiency is achieved.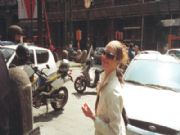 Start Doing Business Overseas
Doing Business In India
India is one of the fastest growing economies in the world with growth levels reaching between 5-6% (5.3% in third quarter of 2014). It is a vast country, about a third of the size of the USA, and made up of 29 different states. The market varies widely across its many different regions and states.
India may be a complex and challenging market but it is one that cannot be ignored by UK companies that are seeking to expand and go international. The business opportunities, which a few years ago, existed only in the traditional economic heartlands of Mumbai, Delhi and Bangalore have now stretched to the emerging cities of Chennai, Nagpur, Ahmedabad, Chandigarh, Pune and Jaipur, to name but a few.
India is full of opportunities, some very visible and some still to be unearthed. As long as we are able to find innovative solutions and creative collaborations, the trade and investment relationship between India and the UK will keep growing.