Also in the news...
What UK goods vehicle operators need to do to carry out international road haulage.
Find out how to import firewood, such as logs and kindling, into England, Scotland and Wales (Great Britain).
If you're a business that currently buys goods from or sells goods to countries outside the UK, or are planning to trade with Europe from January 2021, HMRC's new tool can help you identify ways you might be able to make the customs process easier for cheaper for your business. This short video shows you how to use the tool.
If you're a UK business thinking about moving goods into or out of the UK , this video is here to help you understand how customs intermediaries or agents can help you. For more information have a look at the guidance available on gov.uk.
If you're buying or selling goods abroad, you need to work out the amount of duty or VAT you owe. This short video tells you how to find out the 'commodity code' classification for your goods, using our Trade Tariff tool. Find out more on GOV.UK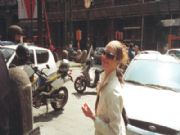 Start Doing Business Overseas
Doing Business In India
India is one of the fastest growing economies in the world with growth levels reaching between 5-6% (5.3% in third quarter of 2014). It is a vast country, about a third of the size of the USA, and made up of 29 different states. The market varies widely across its many different regions and states.
India may be a complex and challenging market but it is one that cannot be ignored by UK companies that are seeking to expand and go international. The business opportunities, which a few years ago, existed only in the traditional economic heartlands of Mumbai, Delhi and Bangalore have now stretched to the emerging cities of Chennai, Nagpur, Ahmedabad, Chandigarh, Pune and Jaipur, to name but a few.
India is full of opportunities, some very visible and some still to be unearthed. As long as we are able to find innovative solutions and creative collaborations, the trade and investment relationship between India and the UK will keep growing.