Also in the news...
The UK has introduced a points-based immigration system.
Find out what you need to do to prepare for making declarations on the Customs Declaration Service.
If you're setting up a new online business, having a user-friendly website and sound SEO strategy that's tailored to your target market is important. And if you're targeting British consumers, there are a few SEO boxes you can tick to ensure you rank well on UK-based searches and drive the right traffic back to your website.
Find out whether you're established in the UK for customs purposes.
What UK goods vehicle operators need to do to carry out international road haulage.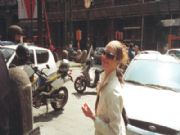 Start Doing Business Overseas
Doing Business In China Guide
China is the great economic success story of the past 30 years. Since the "reform and opening-up" policy was introduced in 1978, China has changed beyond recognition.
A Soviet-styled planned economy has transformed into a vibrant market-orientated economy and 600 million people have been lifted out of poverty. Between 1985 and 2010, 70% of the world population who had been lifted out of poverty were Chinese. Without China, the global poor population would have risen by 58 million.


Well known for its manufacturing capability, China is the largest global producer of toys, textiles, washing machines, cameras and computers (among hundreds of other products). It is also the world's largest consumer of iron, steel, coal and cement, and China's hunger for raw materials continues.