Also in the news...
Forex Market is also known as Foreign Exchange Market or Currency Trading Market.
Obtaining a business license in Italy: what you need to know
The UK has introduced a points-based immigration system.
Find out what you need to do to prepare for making declarations on the Customs Declaration Service.
If you're setting up a new online business, having a user-friendly website and sound SEO strategy that's tailored to your target market is important. And if you're targeting British consumers, there are a few SEO boxes you can tick to ensure you rank well on UK-based searches and drive the right traffic back to your website.
A guide to exporting to China
China – often referred to as 'the world's factory' – has seen unparalleled economic success in the past few decades. No other country produces and exports more goods, and China is also the second largest importer in the world.
To successfully trade with China, it is vital to be able to communicate with trade partners. This also applies to potential customers in China – over 1.3billion of them! –who have requirements that local companies' products often cannot meet. Chinese culture, too, needs to be considered as this can differ significantly from what westerners are used to. This is where translation and localisation come into play.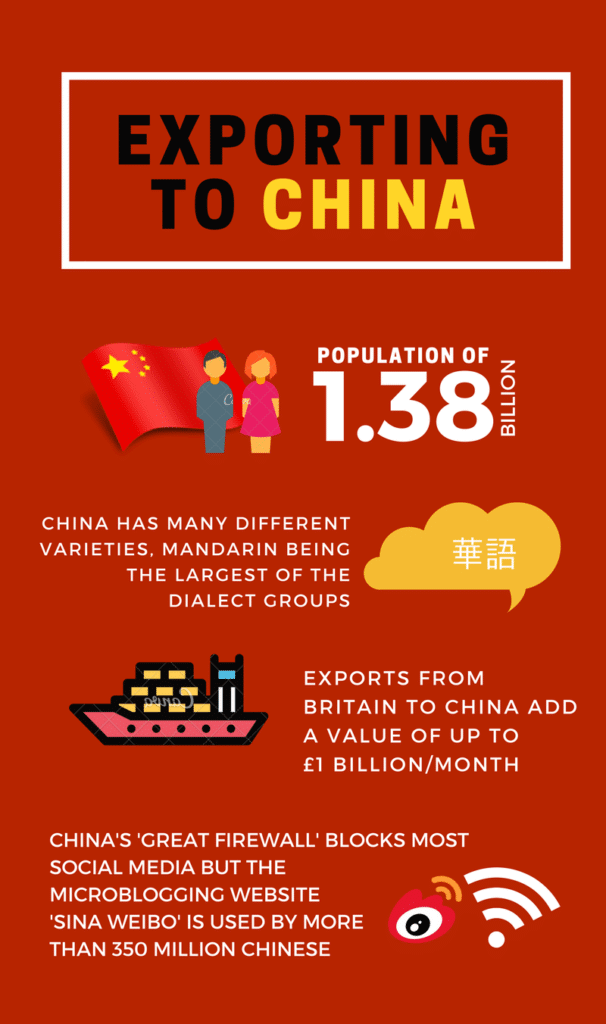 Besides Standard Chinese and Mandarin, there is a huge linguistic diversity in China that exporters need to be aware of. This means that the Chinese market should never be treated as a single market, instead the focus should be on specific areas or regions – don't just rely on one dialect and hope to reach the majority of the population. Furthermore, it should never be assumed that potential business partners speak English.
Regulations and bureaucracy can also be a big hurdle for companies wishing to export their products and services to the Chinese market. Goods that are sold in China must be supplied with a label that includes all relevant information (including content and warnings) written in Chinese.
The 'Great Firewall of China' slows down internet traffic across the borders and blocks most social media websites; with this in mind, instead of trying to connect with your potential customers via Facebook or Twitter, you might want to try using local versions like Sina Weibo, a microblogging website that currently boasts more than 350million active users.
To this day, investors from abroad can struggle with Chinese values, some of which are based on the teachings of Confucius and Communism, and put family and the government above any kind of commercialism. Besides these values, it is also important to be aware of different behavioural structures and a complex business culture – gestures can be interpreted differently, questions can seem too personal and in Southern China, where superstition is rife, the number four should be avoided, whereas the number eight might just be the deciding factor for a partnership. It takes time to build trust and it is often quite common to go out for drinks and food with potential business partners.
Britain is one of the top 10 exporters to China – providing anything from luxury vehicles to fashion, as well as environmental solutions – with exports having almost doubled in the past decade and now totalling a staggering GBP1billion every month.
Successfully exporting to a country like China will require a lot of hard work and resources; working with a professional agency providing Chinese translation services can go a long way to helping you in this endeavour.