Also in the news...
The UK is one of the best places on Earth to have a business. This makes many overseas companies seek to enter the UK market.
The Federal Capital Territory (FCT) Abuja, Nigeria's capital is gradually becoming a renowned city in Africa. In recent times, there has been an influx of people into the city and its real estate development and construction sectors are developing at a tremendous pace.
Looking to set up your UAE company? How about a visa for life? It might sound too good to be true, but it's a reality. And the offer ends October 31st.
If you want to build traction for your startup, you need to invest in a high-quality website. You also can't afford to make too many mistakes, because a good website costs money.
The Government reveals the 12 businesses from across the UK who will showcase their green technology and innovations at the Global Investment Summit.
24-Hour Access To Offices Is Most Important Feature For Workers
The flexible office market has never been more popular, continually evolving with innovative and exciting amenities. With this continuous growth, the need to differentiate has become more crucial.
The flexible office market has never been more popular, continually evolving with innovative and exciting amenities. With this continuous growth, the need to differentiate has become more crucial.
New research from The Instant Group explores the current expectations of occupiers across the APAC region, and what they see as driving real value for their businesses as the market continues to expand.
Who is flexing?
In a survey of 500 respondents, 19% fewer were over 45 years of age in the APAC region, compared their EU counterparts, indicating how this type of space is favoured more by younger generations working across the Asia-Pacific region, while 52% were from a corporate background.
Respondents Age
Under 25 – 6%
25-35 – 40%
35-45 – 35%
Over 45 - 19%
Company Size of Respondents
Freelance – 2%
Start-up – 13%
Small-medium – 34%
Corporate – 52%
What do customers want from workspace?
Fewer people are following the route of the 'traditional' 9-5, particularly as the freelancing industry continues to thrive. As a result, access to the office at all times has become an increasingly important feature, even if it's a service that is used infrequently.
In fact, research shows respondents place more value in facilities that make things more convenient and make their lives easier at work, instead of novelty amenities such as pet-friendly environments and bars.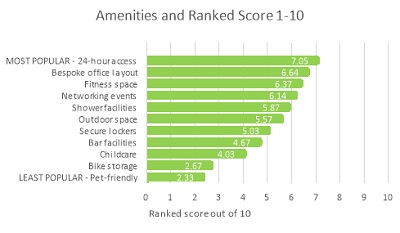 While the more desirable features sort after by businesses are those often found in larger conventional office environments, childcare facilities and pet-friendly environments were among the lowest ranking amenities despite these features supposedly appealing to today's millennial audience.
Wellness, wellbeing and work-life balance continue to be of global importance
As businesses pay closer attention to well-being and mental health at work, 80% of occupiers felt a relaxation space added value to their businesses. With the average person spending more than 90,000 hours of their lifetime at work, 'living' space at work continues to be a rising trend. Although this is something that a few, but an increasing number, of locations in the APAC region are providing, with 85% feeling this would be valuable, few occupiers in Europe are demanding this service.
Childcare services are now being offered by a small number of large corporate organisations globally; however, this is still a very niche service offered by flexible office providers. Nonetheless, 80% of respondents with children admitted they would consider such a service should it be offered.
When it comes to health services, over half state the provision of health services, such as on-site drop-in clinics or private healthcare schemes, added value to a workspace.
James Rankin, Head of Research & Insight at The Instant Group, said:
"Several interesting trends emerged in our latest research on how flexible providers can offer additional value to those using their spaces. For flex space users, additional services can offer a host of appealing benefits. For SMEs and individuals – a key customer base of flexible space providers - healthcare schemes, in particular, came up as an important potential benefit.
This is significant because, in addition to driving a more cost-effective solution, a flexible provider with multiple clients could also eliminate the stress and complexity of managing such schemes from their occupiers, many of who already juggle multiple roles within their companies"."