Hi Nadia,I want to start a phone and laptop repair shop in any part of Dubai,preferably Deira....please I need to know what more about startup costs and trade license costs and other necessary documentations information..hope to hear from you as soon as possible.Regards

Total Posts: 14 Last post by branches

Hi everbody,First all, my name is Hoang Vu and I work as Import Export Sale at Vietnam Cacao Joinst Stock Corporation (Vinacacao). Vinacacao was founded in 2007 as an only cocoa processing and trading company of Vietnam. Our main products include the raw material and finishing products, these are cocoa powder, cocoa powders 5 in 1, chocolate and chocolate drink which are manufactured by Belgiu

Total Posts: 2 Last post by dpfinan
Egypt >
Ask the Experts: Rania El Sherbini

Ask the Experts: Rania El Sherbini
Egypt Business Expert & HR Support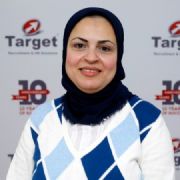 Egypt Business Expert & HR Support.
Rania El Sherbini holds the position of Global Staffing Partner in Target for HR Services. With her 5 years' experience in the Egyptian governmental affairs, Rania has mastered the business of obtaining work permit & work visa for expats in Egypt. She is also a vital member in HPA Human Power Association- Egypt. She manages the Global Staffing Department in all offices of Target for HR Services in Egypt. Under her management, the department obtain 100+ work permit & work visa annually.
Target for HR Services operate in Cairo, Alexandria and all Egypt's key cities. Target also offers comprehensive services for the new investors in Egypt.
You can email Rania here rsherbini@targetdhr.com
+20 120 000 1339
Rania has not been asked any questions yet. Why not be the first?